Today one of the best browsers and without doubt the most used is Chrome, but obviously you may have one or another problem and one that many users experience is that of ERR_NETWORK_CHANGED which basically is not other than the connection has been interrupted How to solve this problem? Keep reading because we will tell you step by step so that this does not happen again.
Error ERR_NETWORK_CHANGED Chrome
You may be browsing a while ago and without problems, suddenly you enter a website and it does not load, that's when the error appears. The connection has been interrupted. What happened?
The problem may have one or another solution, the first thing you have to do is check that the internet works properly, you can do it not only trying to load another website but also with the mobile phone, for example.
In case you have a laptop with Wi-Fi, you should try to verify that it is not trying to connect to another nearby network that has a better connection, because if it is, the laptop will try to connect to the Wi-Fi that has better speed automatically.
Error Chrome connection was interrupted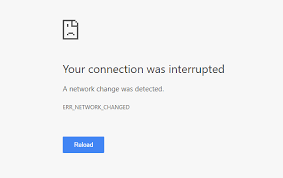 In case the problem persists, what you should do is go to the Settings part of Google Chrome and then go down until you find the option that says "Restore the original settings of the configuration ". A new window appears where you must click on the button that says "Recover configuration".
In this way, the Google Chrome settings go back to how you were as soon as you installed the browser, by default. The only thing missing are a few things, any customization that you add to the browser, but as a last resort is the only option left to solve this problem.
It can be quite annoying, but as you will see how to solve it is actually something simple that should not take too long, in a matter of a few minutes if you follow what I mentioned above, you can be browsing again without any kind of inconvenience.
It is not at all complicated to fix it and in one way or another you can continue browsing the network, once this problem is solved it will not bother you again.