The PDF may be more useful than ever in our increasingly multi-device, cross-platform world. Much of the time, you can use a free PDF reader to view and comment on some files. Whether you're using them for business, school or general use, PDF files are a fantastic way to share information. But inevitably, particularly in a business setting, you'll need to edit a PDF file and that usually requires upgrading to a premium PDF editor. In this article, we will share EasePDF which is a free online PDF converter to you.
Read more: How to Decrypt PDF File With or Without Password
Although EasePDF is a brand that has just been created, but it has been researching PDF for more than 10 years. EasePDF makes converting PDF extremely easy by providing wonderful free online PDF converting tools with a clean and comfortable interface to PDF users. As an online PDF editor, it offers more than 30 online PDF tools for converting, editing, merging, splitting and so on. Not only does it combine the basic needs of users, but it also adds a lot of new features that users may use. Removing pages and highlighting the files are also be supported in this converter.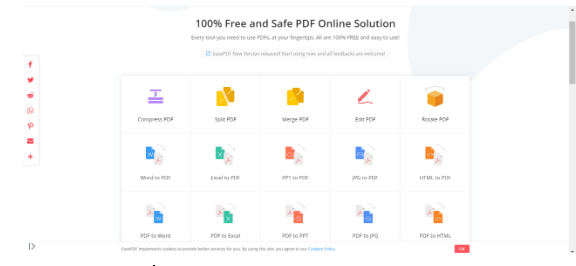 When you go into EasePDF, you can see a concise interface with a lot of tools on it. You can click the tools that you need to use. All the tools are free to use. EasePDF can make the document customization incredibly easy. You are able to upload documents in all different tools. It's incredibly easy to use, navigate, and customize. The typesetting of the site is also very user-friendly. Here are some advantages to this converter:
Read more: 3 Reasons for Using WordPress for Your Blog
Easy to Use
You can feel free to use all the tools in EasePDF without any download and registration. It has a user-friendly interface with simple options, such as Edit PDF. The capability to edit text, add and modify images and forms, draw and add specific features in a PDF file, all this can be done easily, you just select the option, add the files, edit what you need and download the files through a click.
Plenty of Useful and Powerful Tools
With EasePDF, users can not only add text, insert images and shapes, but also adjust the size and color of the font, the shape and the thickness of the lines. In addition, users can also highlight important texts. For more information, you can get from How to Highlight in PDF File? 
Safe Encryption of Your Files
Don't need to worry about the safety of your data. This converter provides a 256-bit SSL Encryption of all your files that means your files, documents, and data are secure. All your personal information won't be shared with others and no one can access your loaded files.
Read more: Essential Apps For Android Users
Universal Conversion
The free online PDF converter can work well on any OS, including Windows, Mac and Linux. It can also work on any OS on smartphones like IOS and Android OS. You can easily convert files with your smartphones at any time and anywhere. 
Automatic Deletion
This converter cares about your privacy most. When you finish the conversion, you can share the link of your file with others. To ensure the safety, our server will delete those files and the links in 24 hours automatically. You can enjoy our services without worry.
Read more : 6 Essentials of a Well-Conceived Marketing eBook
That is our review of the EasePDF converter. If you want to learn more about this PDF converter we reviewed, you can go to EasePDF to learn more features. We'll continue to evaluate more as time goes on – as well as re-evaluate those we've already reviewed.