As you start your business, managing customer's information and contacts isn't difficult. However, you the business grows, you get more customers, hire more employees, get more contacts dispersed across notepads, spreadsheets and memories. This can prove quite difficult, perhaps the reason why you need customer relationship management tools.
CRMs are effective tools that help in managing customer interactions and prospects, with the aim of enhancing and boosting customer relations with the company. These tools collect, process and easily analyze data from numerous interactions channels such as phone calls, emails, social media, and website visits. You can use the acquired data to manage, grow and expand your small business by keeping your client's data organized and searchable.
Currently, there are several CRM options making it challenging for small businesses to find the perfect and robust CRM tool. Nonetheless, a simply designed tool fitting your budget should be perfect for your small business.
Benefits of CRMS Tools
Both small and large businesses benefit greatly from integrating CRM software in their venture. Some of the outright benefits of CRM include;
Contact organization – As your small business customer number grows, customer contact management software will help you organize client's data significantly. This makes it easy for you to keep track of who customers spoke to in your team and what was discussed.
Sales tracking – these tools help businesses track sales performance overview such as calls and deals booked. This helps you understand how your venture is doing and areas to improve on.
Sales forecasting – a good CRM tool generates accurate sales funnel for your venture, making it easy to forecast and manage sales.
Customer segmentation – with these tools, you can segment your customer contacts based on location, deal close date, deal size, and many aspects.
Well, that said, consider the following customer relationship management tools you can incorporate into your venture.
5 Top CRM Tools for Small Business
HubSpot is probably an undisputed leader and the most popular CRM tool. It is available as a standalone product as well as a synergy with various other HubSpot products. Most small ventures like it as it is available free of charge. The tool comes with all the necessary features of a CRM tool. You can use it to create in-depth company contact profile, assign and track company leads, control employee performance and organize your businesses' corporate activity on its dashboard.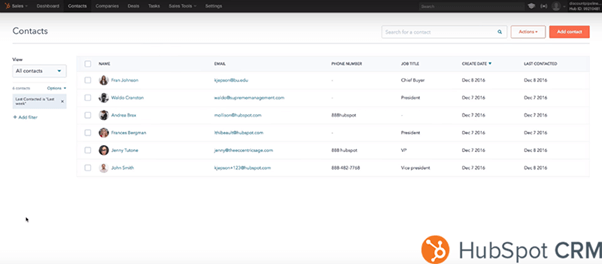 Photo credits – HubSpot
HubSpot is made with small business use in mind. As such, it is optimized for mobile use and accessible on browsers and advanced operating system, making it a good option if you need collaborative work from remote teams.
Unique features
Affordable – HubSpot if a fully featured CRM tool that easily integrates and can be used by any business. Better yet, it is affordable for small businesses.
Intuitive interface – it is hosted in cloud, eliminating the worries of having complex installations. Its dashboard is easy to understand and requires no training to use it. Automating customer relationships as well as importing leads can be done in one click.
Good for lead importation – with its powerful automation feature, you can close deals with clients in less time. This is made possible as it gathers all the meaningful leads within one location.
No restrictions – despite being free to use, HubSpot doesn't limit the number of users or contacts involved. You can organize thousands of contacts and make the data available and accessible to all your staff.
Flexible – this tool has a flexible and configurable system that meets the needs of both B2B and B2C companies.
This is yet another easy to use CRM tool that does a whole range of activities. It helps organize clients contacts and interactions, track leads and milestones and long term projecting based on the company's prospects and clients. Its layout resembles a social media platform, making it easy to navigate.
There are several options users can customize the interface with features essential for small businesses. It also easily integrates with other tools such as QuickBooks online, Google apps and Google Drive. Worth mentioning is its project management ability that helps businesses achieve great organization.
Like any other software, it has different pricing levels ranging from the free plan, basic, plus, professional and the enterprise level.
From the start to the end, Salesforce essential is a tool built with small business use in mind. This tool offers rich CRM solutions targeted towards small, medium and large enterprises. Salesforce, a SaaS giant, developed Salesforce essential, a CRM platform that suits needs, budget and the resources of small businesses. It allows teams of up to 10 users.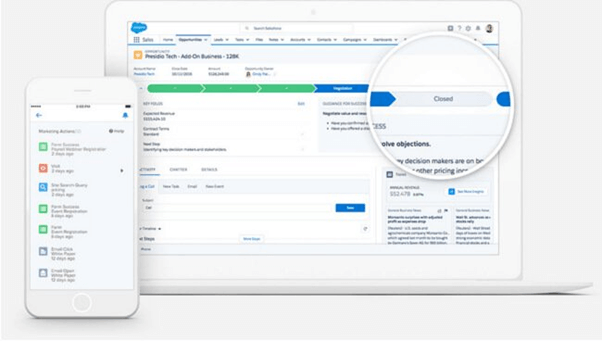 Photo credits – Salesforce Essential
Team members won't need to have advanced IT knowledge as the tool is easy to set up and use. It also comes with a user manual with in-app tutorials that guide users to navigate around the app with ease. Once installed, you can start using immediately, with a 360-degree display of your customer's data gathered from various sources such as emails, support channel and calendar bookings.
Salesforce essential's feature highlight, Einstein, is an artificial intelligence tool that intelligently automates your company's sales activities. It eases tracking calls, emails and following on leads. Combined with the tool's intuitive mobile app, small business owners can access the company's data anywhere, anytime.
Pipedrive has been termed the best sales CRM for small teams with big ambitions. Since its inception, it is among the fast-growing CRM service providers serving more than 50,000 small businesses globally. It easily gets your sales organized, enables users to control the company's sales activities and helps forecast actions that matter.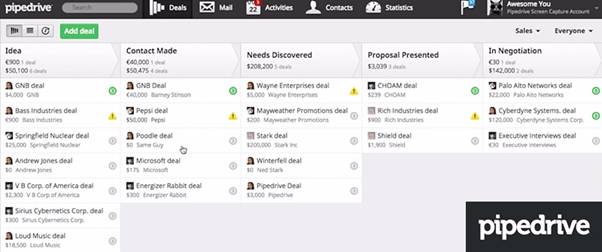 Photo credits – Pipedrive
With this tool, you can manage and track all the details of your deals making it easy for you to make successful business moves. With such, the tool is best for use in sales-focused environments as it helps manage deals and configure unique leads collection without leaving potential customers out.
ProsperWorks works within your Gmail account to identify, organize and track sales opportunities. It also helps companies understand, target and service pre-existing customers. Perhaps its best feature is the reduced time needed by your sales team to enter client's data. This is because most of your client's data is readily available within your Gmail account.
Besides reduced time, other intriguing features of ProsperWorks include quick set up time, minimal training and interactive interface. To suit small businesses, the tool works exceptionally with Android and iOS for real-time interactions. Despite not being a free tool, this CRM tool is available at an affordable monthly rate.
What to look for in a CRM Software
As mentioned, there are hundreds of CRM tools that can work best for your venture. Therefore, there are a number of facets that your small business should watch out for when selecting the best CRM tool. Below are some key pointers.
Budget – as a start-up or a small business, you should consider getting a cost-effective option.
Easy to learn and use – always go for tools with an easy learning curve. Being a small business, you might not have enough time and resources to master complex and advanced-grade software.
Easily customizable – go for tools that dissect minor interactions with a wide range of applications. This helps in producing overwhelming data that is key to your business's success.
Customer support – most small businesses have small teams. Therefore, it is helpful to integrate a tool offering sufficient support.
Versatile – go for a tool that easily integrates with other tools.
Final Thoughts
CRM tools are sound investments for any small business looking to expand. The company's sales team, in particular, will benefit from leads, sales and workflow management provided by the tools. This will significantly increase efficiency of the sales team, enabling them to convert potential leads to actual customers.
With the various CRM tools for your small business available, it is time to start assessing your options. Before making a decision, consider several factors such as implementation and technical assistance necessary, number of users, cost, ease of use and security features. Using a CRM will help make sure no potential customer falls between the cracks—which means you can focus on using marketing tools to help gain more prospects!