Most people in today's world may have plenty of pictures either in a computer, phone or SD card. As every photo carries a previous memory, they are unique and valuable for people. However, digital pictures are prone to get lost for various reasons, such as accidental deletion, mistaken formatting, sudden power failure, virus attack, system crash, and corruption of a storage device. If you've ever accidentally deleted photos while editing, or transfer photos from an SD card to your computer but couldn't find it then a free data recovery tool might be what you need to restore your deleted/lost photos.
There are tons of programs for file recovery across the web that assure you of easy and quick restore. But to tell you the truth they are complex, tedious, and time-consuming. Also, you cannot be sure whether they are 100% reliable. iBoysoft Data Recovery stands out among all other data recovery software for its easy-to-use interface, higher efficiency, and reliability.
About iBoysoft Data Recovery
iBoysoft known for creating a wide range of data management and recovery utilities for both inexperienced users and professionals. iBoysoft Data Recovery, as the company's most popular products, it has successfully helped millions of customers retrieve their precious files in an easy way. It is free and comprehensive data recovery software for Mac and Windows that lets you recover photos, audios, music, and email from any device. Whether you accidentally deleted files or mistakenly format a partition, the software can restore deleted/lost files without spending impossible figures. Besides, the software can recover data from partitions or drives that are corrupted, inaccessible, unmountable, deleted or lost.
Tech Specifications of iBoysoft Data Recovery
Let's see the technical specifications of iBoysoft Data Recovery first.


Easy to install
The software is a light-weight tool that you can download quickly and install easily. To download iBoysoft Data Recovery, you can open the download link and click on Windows product link or you can go for its Mac version. A Windows setup file is about 3.4M in size, while the Mac setup file is about 7.7M in total. Click on the download file and follow the wizard to install it.
Friendly user interface
The first thing notice about iBoysoft Data Recovery is that its interface very clear, well-detailed, easy-to-navigate. When you launch the software, you will see a list of all connected drives to your computer as well as some basic information on each drive. You will be able to retrieve all your lost files in just two clicks. No technical skills are required.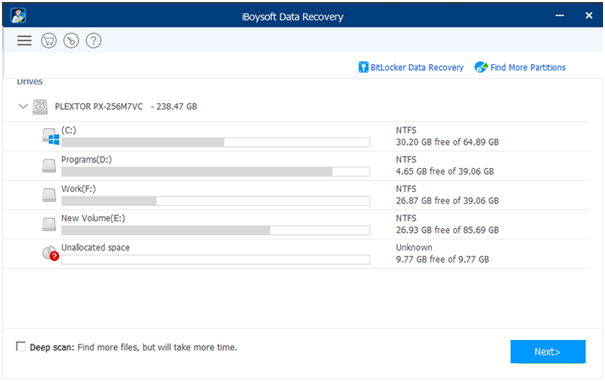 Scanning the hard drive
Right on the main windows after launching this app, you'll need to choose a location to scan. That can be an entire drive or a partition. Once it's down, just hit "Next" and the software will check for deleted or lost file. In this situation, iBoysoft Data Recovery automatically runs a Quick Scan which will finish in a few seconds. This scan mode is fast and efficient that performs well in finding deleted files. But if the results after a quick scan are average or unsatisfactory, you are able to switch to the Deep scan mode. It will take a longer time than the Quick scan, but it proves to be worthwhile as it will scan your entire drive to carry out a precise recovery.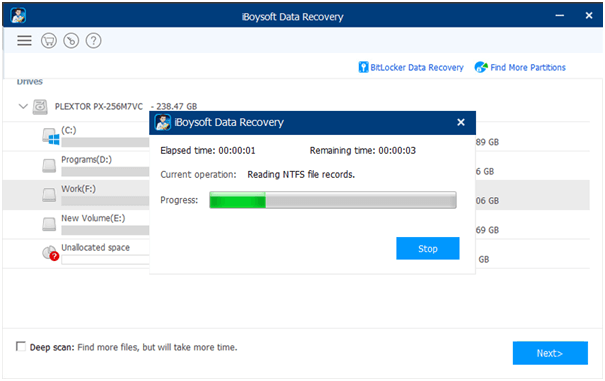 Restore data
When the scanning process completes, you need to choose the files you need and click the "Recover" button. You can filter results by file types, dates, size, file names if you can remember. After quickly targeting the right contents, you are able to preview them by double-clicking to ensure that files are exactly you are looking for. Finally, check the boxes beside the files you want, then hit "Recover" and choose where you want the recovered files to be saved.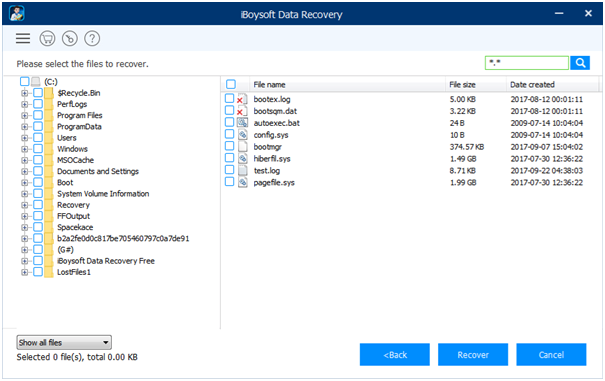 Conclusion
The best way to avoid data loss is always backing up your files regularly. But no one can guarantee that your data is 100% secure and won't get lost forever. Therefore, there is where a data recovery tool comes in handy. Of all the data recovery software available, iBoysoft Data Recovery is by far the most powerful and effective data recovery tool. It involves a simple user interface, multiple scan modes, feasible viewing feature