Most of the businesses have realized the significance of online presence in this rapidly growing technology. To build their presence globally, they have felt the need of building a website and because of this, the demand for websites has increased as well. Therefore, web developers' and web designers' business is in the boom.
Now as they build websites, they will surely need a web host to make their website available on the internet. So, ultimately web hosting business is worthwhile.
If you think starting a web hosting business can give you some profit, then here's an option that can help you provide web hosting service without burning a hole in your pocket. No. You don't need to invest in the data center or bare the server maintenance cost. Simply by reselling web hosting services, you can become a web hosting provider. If you put enough time and effort into this, you will be able to become a successful reseller and earn a significant income.
What is Reseller Hosting?
Reseller web hosting is a way through which one can buy web hosting service from a trusted web hosting provider and resell it at your own prices. The profit is received by reselling the resources of the server like bandwidth and disk space that is purchased from the reseller hosting provider.
Once you buy an unlimited reseller hosting plan, from your parent web hosting provider you can assign a specific amount of resources for your end user's website. Moreover, individual cPanel accounts can be created for each of your clients. Remember, the more the clients the more the revenue.
Advantages of Offering Web Hosting to your Clients
Profitable income:
The way a shopkeeper earns a profit by purchasing products from the manufacturer and reselling them to consumers. Similarly, you can get good earnings by reselling web hosting services. Just purchase a reseller hosting plan and sell it at your own prices to gain a good profit.
Recurring business:
Web hosting once purchased needs renewal on a timely basis like 1 year, 3 years etc. Which means your clients will come back to you for renewal once their plan expires. As a result, you build long term relationship with your clients and at the same time get recurring revenue for your business.
Time-saving:
With the availability of WHM tool managing all your clients' accounts is quite easy. You can easily create hosting packages, manage username/ passwords, create cPanel accounts, create FTP accounts and more. Thus, you can save a lot of your time as all of this can be managed with the help of a single dashboard.
Choosing an Ideal Reseller Hosting Provider
The next step is picking a perfect web hosting provider on whom you can rely. There are many parameters that need to be considered while choosing a reseller provider for web hosting.
It's true that features differ from provider to provider and you need to carefully analyze before you sign up. To make this process easy, we will talk about one such provider which is trusted and affordable -MilesWeb
Getting Started with MilesWeb Reseller Hosting
Now that you have decided to become UAE's reseller provider, it's time to buy a cheap reseller hosting plan.
MilesWeb- an Indian based web hosting company offers affordable web hosting solution that includes shared hosting, business hosting, WordPress hosting, reseller hosting, cloud hosting, VPS hosting, dedicated hosting, etc.
You get assistance from them at any given hour. As they are available 24/7/365 and have various mediums for contact like: live chat, phone, and email.
You also get guaranteed uptime of 99.95% along with money back guarantee.
The price of a reseller hosting plan is just AED 16.53 for a month which is the Entry plan followed by  Smart plan- AED 23.14/ mo and Plus plan-AED 36.36/mo.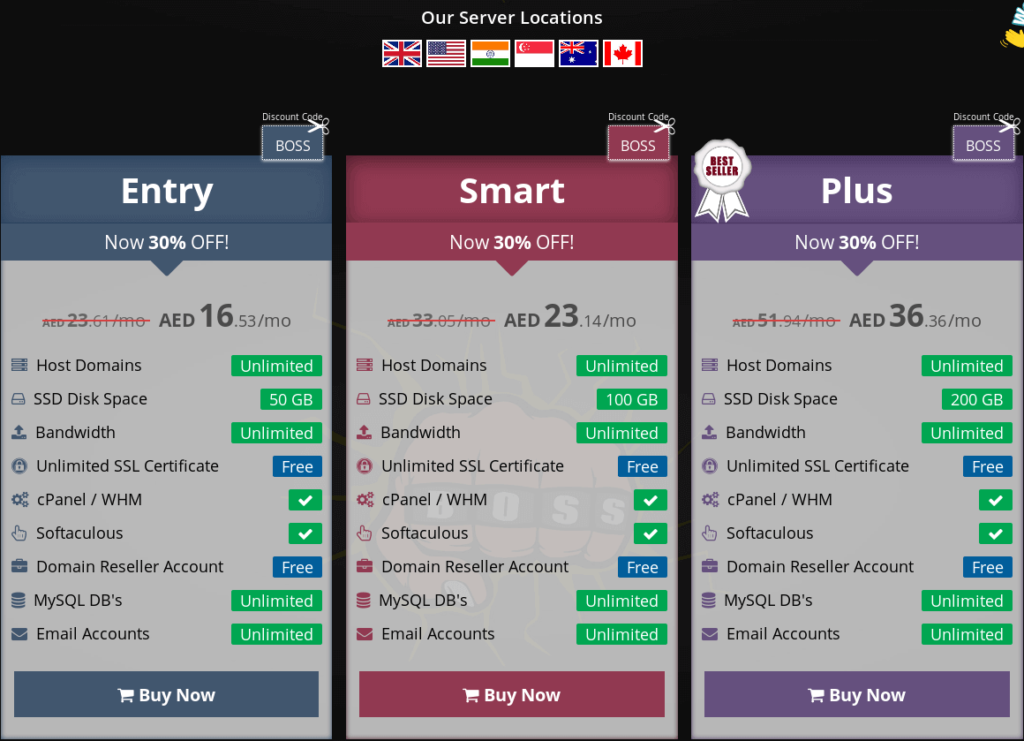 Technical details of Linux Reseller Hosting
White Label
While you sell web hosting services as a reseller you can add your own company name and logo. This is possible because MilesWeb is a white-labeled reseller hosting provider. The cPanel can be branded with your own brand name and logo.
WHMCS
With WHMCS tool your daily operations will become hassle-free. The complete billing and support tickets will be handled by WHMCS tool. When you buy MilesWeb reseller hosting, you get the licensed version of WHMCS tool.
SSD storage
To deliver better performance of your client's website, SSDs are utilized to store the complete data. The mechanism used for storing data on these drives is the flash mechanism. Therefore, the loading speed of all the websites that reside on this server will be faster.
A free domain reseller account
Along with web hosting, you also get the ability to resell the TLDs. No separate charge is taken for this.
Final Words:
Adding new service to your existing business is never a bad idea. It will help you reach a wider audience and get you ahead of others in your industry. Reseller hosting is the most reliable option that can surely lead you to a road of success. You will not even need any technical knowledge and still sell the services.
Are you ready to be your own boss? Become MilesWeb reseller now.