Digital marketing is what many of us now think of when we think "marketing" – and for good reasons, such as speed, flexibility, and low costs.
But digital marketing isn't the only way to reach your audience. 
By combining digital and physical marketing, you can create powerful customer experiences: "wow" moments where your customers become much more invested in and engaged with your brand.
Before we dig into some specific ideas, let's take a quick look at the different advantages of digital vs. physical marketing.
Unique Advantages of Digital Marketing
Digital marketing has a number of great advantages, including:
You can do a lot of marketing on a very small budget.

If you're happy to invest the time, you can write social media updates, create

blog posts

for your own website, submit

guest posts

, and much more – all for free.

Once you've set it up, it costs little or no effort to continue running.

For instance, you could create a welcome sequence of emails that goes out to every new email subscriber automatically – no work required on your part.

It's easy to get started with.

Most of your digital marketing efforts won't require any special equipment or investment. And if you make a mistake or something doesn't pay off, then you won't have lost much (if any) money as a result.
Unique Advantages of Physical Marketing
Physical marketing also has some great advantages, including:
It lets you put a reminder of your brand in people's homes.

Your blog or YouTube channel might be forgotten as soon as someone puts down their smartphone. But if they have a magazine you've created on their coffee table or a mug with your logo on their desk, then that's a constant reminder of your company.

It stands out more.

Physical marketing can help you reach audience members who tune out digital advertising. Lots of brands have a blog, email newsletter, and YouTube channel, but fewer engage in physical marketing.

It can make your brand seem bigger and more important.

Because physical marketing costs money and may well be more risky, engaging in physical marketing gives your audience the impression that your business is big and potentially even more reputable than brands that only take part in digital marketing.
Three Powerful Ways to Mix Digital and Physical Marketing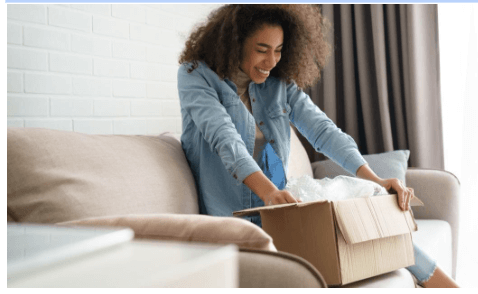 Bringing together both digital and physical marketing effectively can create powerful customer experiences and "wow" moments.
For instance, you could:
1.Send Out a Physical Free Gift to New Leads
Do you give away a free "lead magnet" download when people join your email list or sign up through your webinar tool? So do thousands of other brands.
By giving away a physical free gift, you can make your company hugely stand out. Of course, you'll have a much higher cost of sending something physical: not just the cost of the item itself, but also shipping expenses. However, if you know that (say) each lead is worth $20 to you on average, then spending $5 on a physical free gift would be well worth it.
Getting something in the mail (other than junk mail) can really get your customer's attention. By bringing together the digital and the physical, you'll be much more memorable than all the other email lists they've signed up for or webinars they've attended.
2.Create a Print Magazine or Newsletter as Well as Your Blog
Do you have a loyal following for your blog (or podcast?) Then it might be worth creating a print magazine or newsletter. You might not send this out weekly or even monthly – a quarterly or annual magazine could still be worthwhile.
This could be a great way to repurpose content, bringing together some of your best blog posts from the previous quarter or year, as well as sharing exclusive content with your audience. 
Your print magazine or newsletter can be read with fewer distractions than your website, plus it could become a talking point or something to pass around among friends – boosting word-of-mouth marketing.
3.Sell Swag Related to Your Online Brand
Would your audience love to buy t-shirts, water bottles, caps, or other swag emblazoned with your logo? This isn't just a great way to make more money from your audience – it can also be a powerful form of advertising. Swag might also be bought as gifts from your audience members' friends and family, especially if you have an audience of kids or tweens.
If you have a fun and engaging brand that people enjoy being fans of, then you should definitely open a swag store. Whether you're a blogger, podcaster, social media influencer, or YouTuber, swag is a fantastic way to bring the digital world into the physical one. 
Ready to create more powerful customer experiences? Set a budget for your physical marketing today – and look for ways to bring your brand into the physical realm, so you can delight and engage your customers.