Have you ever wondered that there are both booming and dead languages ​​in the digital programming universe? Did you know that a struggle for survival between these dry lines of code is no less dramatic than in living nature? These silent dramas are still waiting for Darwin to describe the history of this natural selection.
Who will recall PASCAL today? Meanwhile, it competed with C for a long time, not inferior to it in popularity. 
Does the word Smalltalk tell you something? No, this is not the name of the Inca nodule. It is a language that in the 90s was considered by many programmers to be the dominant one and the only one suitable for solving any business problem.
But then JavaScript appeared on the scene, and the new era of product's design began…
Longevity winner
JavaScript was verily born a champion. Since December 1995, when its creator Brendan Eich introduced the world to a new prototypical programming language, JavaScript has steadily won the hearts of JavaScript software developers and first places in international rankings. During the last eight years, JavaScript confidently tops the leaderboards in almost all areas of programming. 
Over the years, programmers from 183 countries have unanimously recognized JavaScript as the most popular language for both front-end and back-end programming. It is used by 69.7% of professionals worldwide. The dynamics of JavaScript distribution are amazing. 80% of the world's open-source software is based on only 4 languages: C++, Java, Shell, and JavaScript. However, since 2009, only JavaScript has shown stable growth, annually gaining over two percent in this segment.
The secret of success
There are many explanations why IT companies around the world are in constant search of JavaScript programmers and resort to outsourced services developing in this language. Let's look at just a few reasons for this unrelenting popularity.
JavaScript allows getting started with it even for developers with just basic training. As you gain knowledge and experience, projects will become more complex. But for the first steps, you don't even need to master a specific development environment. Just open Chrome, press Ctrl+Shift+I, and you can write your first "Hello, World."

JavaScript is a dynamic programming language. This means that if you have a product that requires regular changes, you do not need to keep a staff of programmers. It is enough to find a reliable future tech partner at the very beginning of your project and inform him about the required adjustments as needed. The JavaScript architecture allows adding new properties or functions to the objects that make up a program without stopping the program itself.

JavaScript takes the lion's share of the market for a reason. It is almost universal. The scope of its application is far from being limited to the creation of solutions of any complexity, both on the client-side and on the server-side. This language also works both in the field of machine learning and with the Internet of Things.

JavaScript is an ideal choice for developing client interfaces. According to World Wide Web Technology Surveys and data from major IT companies JavaScript leaves even its closest competitors no chance. To learn more about the JS services of the Qarea company, follow the link –

https://qarea.com/hire-developers/js

.

Programmers who confidently master technologies from an inexhaustible arsenal of JavaScript can safely count on bonuses in any development company. In particular, a specialist working with the React library, which is used in the development of mobile applications of such companies as Facebook, Uber, Pinterest, is guaranteed to be paid higher by $2-3 thousand. 

JavaScript is constantly evolving, constantly offering developers more and more effective integrated solutions. In particular, the Node.js package manager is an ecosystem that is unmatched in the world. Its advantages have already been appreciated by such giants of the IT industry as, for example, LinkedIn. By switching to a JavaScript-based mobile app, the company saw a 10x speed boost of conversion.
All the above explains the high demand for programmers who know this language. What is remarkable, this trend has been preserved for almost a quarter of a century. Particularly, in the US, a company planning to hire a JavaScript developer must budget $110 000 in annual salary.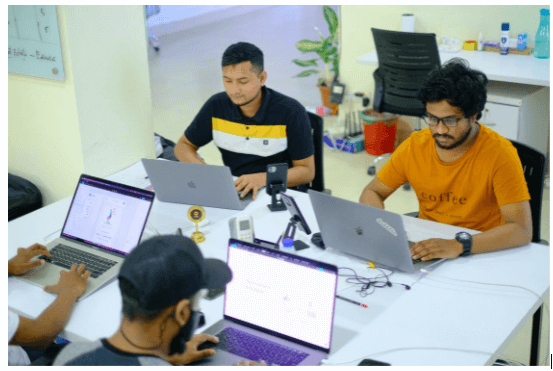 What are the prospects?
As you know, all good things come to an end. Given the endless number of current JavaScript software developers and the 25-year history of this language, will it not happen that the knowledge gained in this area today may become irrelevant tomorrow?
Humanity is moving by leaps and bounds to living on the Internet. All browsers and desktop network services, as much as most mobile applications, are already unthinkable without JavaScript. Companies that are considered the pillars of the IT market invest billions in integrating the latest JavaScript libraries into their products. The demand for the services of JS developers exceeds the supply by orders of magnitude.
The job is offered not only to highly qualified experts but also to entry-level programmers. Faced with a shortage of personnel, large development companies are ready to invest in the training of their specialists. An alternative for them is to turn to outsourced services. This means that there is also a growing demand for freelancers and remote developers.
Wrapping up
Considering all these reasons, experts specializing in long-term predictive market research state with one voice: the rush demand for JavaScript software developers will continue for at least another ten years.