Twitch is a live streaming platform for gamers where they can broadcast or share their gaming experience and interact with viewers in real-time. It's one of the world's largest and most popular streaming services, with over 15 million daily active end users. In other words, it's a great place to start building your gaming career.
However, just like any other platform, starting from scratch on Twitch can be challenging. As the competition continues to evolve, it's essential to put in the extra effort to get noticed and gain traction. Yet don't fret; there are a few cost-effective methods you can use to attract viewers and give your channel a massive boost.
Here are the five low-cost techniques to grow your Twitch channel:
1. Leverage The Power Of Social Media Platforms
As people know, social media platforms are powerful marketing tools that can significantly help grow your Twitch channel. The first step is to identify which platform has the most active users who engage in gaming content. After that, it's all about creating compelling and shareable content that'll drive users to your channel.
You can create a Twitter or Facebook account dedicated to your Twitch channel and post regular updates, such as new videos, live stream schedules, and gaming tips. Also, don't forget to include links back to your Twitch channel so that viewers can easily find you.
Additionally, you can share your live streaming videos from your Twitch channel to your social media platforms to give your viewers a taste of what you offer. All it takes is to use the Twitch downloader tool to download your live stream recordings and share them accordingly. This way, you can reach out to a broader audience and promote your Twitch channel on various platforms simultaneously.
2. Buy A Viewer Bot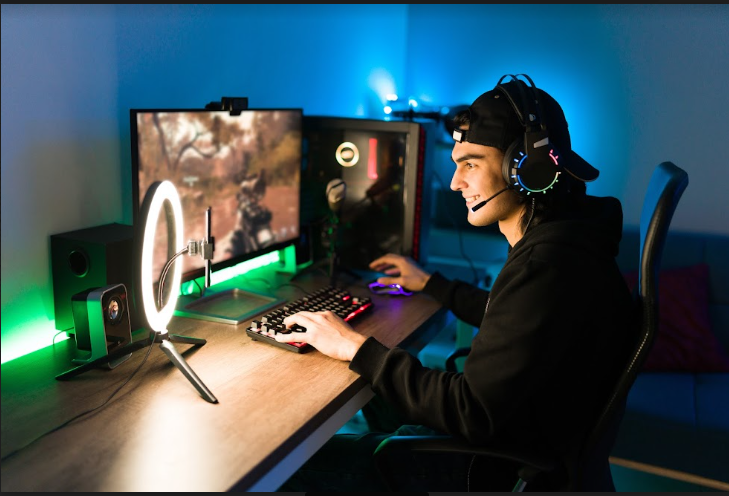 A viewer bot is a computer program that can simulate a human's actions on Twitch. It can perform several tasks, such as following other users, commenting, and voting. The goal of using this innovative tool is to help you get more views, followers, and subscribers. To sum it up, it can give your channel the engagement and exposure it needs to attract more viewers organically.
Most people find viewer bots practical and effective, especially for new and small starting channels. You can find a Twitch viewer bot provider for this purpose. This solution can substantially impact your channel, helping you achieve your desired results in a shorter amount of time. Just use it sparingly to avoid getting banned by Twitch.
3. Provide Valuable Content
As with any other platform, content is still king on Twitch. You need to provide valuable and entertaining content that'll keep viewers engaged. After all, that's the whole point of starting a channel in the first place.
If you're unsure what type of content to produce, it's always a good idea to start by video live streaming your gameplay. You can also create highlights, vlogs, or how-to guide videos that educate viewers on how to become a master gamer or improve their gaming skills.
More importantly, don't forget to be interactive with your audience. You can do this by responding to their comments and questions in real-time. Also, you can ask for their opinions and feedback to make sure that you're on the right track.
4. Utilize High-Quality Equipment
It's no secret that people love watching high-quality videos. If you want to gain more viewers and followers, it's best to invest in high-quality equipment. You can produce professional-looking content that'll make your channel stand out from the rest.
You'll need a high-definition camera, a microphone, and a capture card. You can find all of these items at an affordable price yet still deliver top-notch quality. Also, don't forget to invest in a good lighting setup to make your videos look great. After all, viewers are more likely to watch a video that's well-lit and pleasant on the eyes.
Furthermore, one of the most vital elements to give your viewers an excellent experience is high quality internet speed. Ensure a reliable and stable internet connection to avoid lag or buffering issues. Otherwise, your viewers will likely get frustrated and leave your channel.
5. Participate In Giveaways And Contests
Who doesn't love freebies? Everybody loves free stuff, and your viewers are no exception. You can hold giveaways and contests on your Twitch channel to attract more viewers and followers.
You can give away game codes or in-game items as prizes. Or perhaps do a raffle for viewers to get a chance to win prizes just by following and subscribing to your channel. It's a budget-friendly way to grow your Twitch channel as you don't have to spend much on advertising.
You can also partner with other streamers or businesses to make your giveaway more enticing. Not to mention, it's a great way to network and build relationships with other people in the gaming industry.
Takeaway
These are just some of the low-cost techniques that you can use to grow your Twitch channel. If you're serious about making it big in the live streaming world, it's best to start utilizing the methods mentioned here. With continuous effort and dedication, you can achieve your desired results in no time.