One of the most used applications around the world is WhatsApp, it is so common that you have it installed on your mobile device, which, in new mobile devices, usually comes pre-installed.
But in case you do not have it installed as soon as you acquire the phone or maybe after installing a ROM or doing a Hard Reset, then downloading WhatsApp is not at all complicated and in a matter of seconds you should have it available to use.
Well then, on the one hand, having WhatsApp is simple, the application works wonders and helps us save a lot of money at the end of the month. However, it is an excellent and quite complete application, it does not mean that it cannot have some kind of error.
Failed download WhatsApp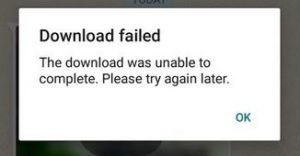 One quite common is when you try to download an image or audio that was sent to you and a message appears that says the following: "Failed download. The download could not be completed. Try it again later. "
You can even be connected to Wifi or have mobile data and this error appears exactly the same. How can you solve the failed WhatsApp download.
WhatsApp does not let me download audios
Leaving aside that you should check if you do not have any battery saving mode which usually cause this error, once you deactivated that mode you can proceed to download the file sent to you through the application.
In case you continue with the same problem what you could do is go to Settings> Applications> WhatsApp and clear the cache and data. Once you reopen WhatsApp in theory it should let you download whatever you want.
WhatsApp will not let me download photos
If the download message still fails, the last option is to download WhatsApp again, for this, you must first remove the application. Restart the mobile device and then find the application in the Play Store to download it again and install it on your mobile device, and this time should have been solved.
Those are the solutions to the annoying message of "Download failed. The download could not be completed. Try it again later. "In case you still have the problem, you should check with another Wifi connection or if you really have credit to have mobile data.