Social media is a reason why digital marketing has reached another level of popularity. It has a potency to influence at a global level, and grab the global content at once place or a platform.
Social media walls then become a trend of digital marketing, where e-commerce brands, and big organizations enroll to showcase their presence in social media and acquire acquaintance at a global level.
Before getting into how these social media walls are crucial to an event, let's get to know what are they?
WHAT IS A SOCIAL MEDIA WALL?
Physically, a 'social media wall' is a digital display that contains social media content on it. That content could be aggregated through a social media aggregator and then displayed as a wall in-
– Events,
– Screens through Digital signage,
– In websites by Embedding feature.
The above options are options that a social media aggregator like Taggbox offers you to showcase your visual or user-generated content to your audience.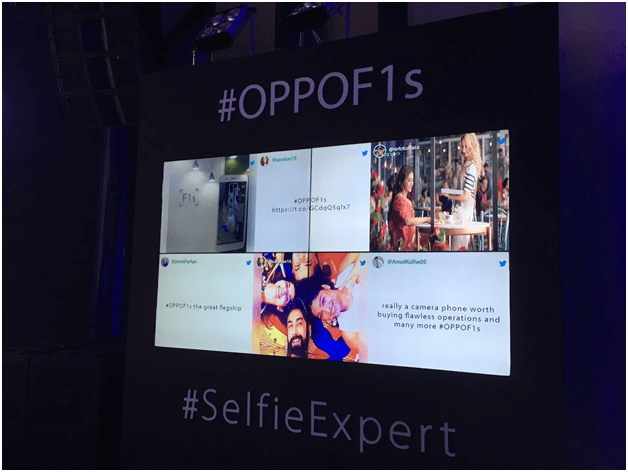 WHY USING A SOCIAL MEDIA WALL IN EVENTS IS A GREAT IDEA?
Events with social media walls have a plethora of positive sides. Be the positives would be for the event organizers or the sponsors who produce the event.
Social media walls just make the sponsors' content visible to the public and provide them a social acquaintance. Getting visible in a live public event is an engagement enhancing factor.
By displaying niche user-generated content in social media walls, not only the sponsors get engagements but also the event organizers become a choice for upcoming events in the future. As they've made the event memorable for the audience too by showcasing them interactively in the social wall.
People like to get displayed in such an innovative way. And that generates a curiosity in them to keep engaging with the brand and event both simultaneously, leading to increased user engagement.
Once, the user-generated content displays in events as a social media wall, the brands that associates to it get to show their visual content and product with their customers to their audience.
TAGGBOX SOCIAL MEDIA WALL, Its USPs and BENEFITS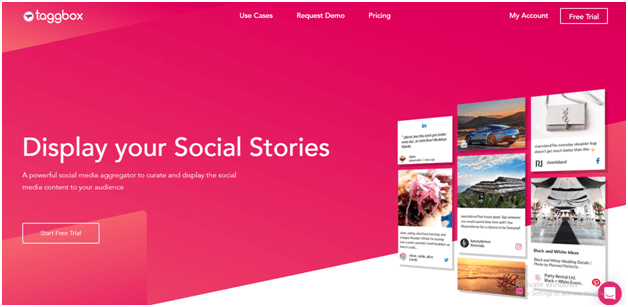 Taggbox is an adept social media aggregator that can display walls in events and make them successful.
It asks to have an account on it and serves you almost everything you would like to have for your event.
Once you have an account, you can create a curated feed or a dummy wall within it, by fetching the social media content through hashtags, social handles, or keywords. It is capable of aggregating the content from almost every social media network.
'Moderation' is a feature that almost every social media aggregator provides. It helps you keep your stuff managed and controlled as per your requirements.
Moderation allows you to restrict unwanted content by setting the rules and keeps your social feed unprofane through the 'profanity filter'.
Once you get the social media content moderated and set to display as a wall in events, there is one more customizable feature that Taggbox has before that.
Taggbox, allows you to enrich the content with the 'personalize' feature, which consists of several customizable options like 'themes, card style, banner image, and custom CSS to further beautify your social feed which is going to be displayed in an event.
Taggbox also offers multiple plans to choose your choice of update time to refresh the aggregated content. You can choose a free trial for 14 days and will get 24 hours of update period.
Not only this, but you can also extend your free trial for 10 days twice, which shows the promising confidence of the product.
CONCLUSION
Events, conferences, e-summits, or any other large-sized affair needs an organizer to get executed. Once the organizers involve, they seek social media walls or aggregators that can help them organizing the one and make it as engaging as possible.
Social media walls are a 'should be there' thing for events today. Their capability to engage the crowd with the least efforts is something that event organizers admire the most.
Now, the challenge that most of the event organizers face is in finding the best tool for the social media wall. Because every organizer wants the following things in a tool for social media wall –
– It should offer Curation and Moderation to filter the content.
– It should offer dynamic features to make the wall attractive.
– It should offer a plethora of platforms to make it happen.
Taggbox is the all in one social media aggregator that you can rely upon, with all these options mentioned above, and is best suitable for displaying a social media wall in your event.