When you share content on Instagram, by default you expect that its reach will be quite high. With that expectation you go to sleep at night, only to wake up to a minimal view. 10 likes and 1 comment?
Disappointing right? All that effort curating that content. That crazy search for hashtags, engaging with people all down the drain?
Well, you are not the only one facing it. Owing to the recent algorithm change that Instagram has brought in, a lot of people are going through the same issue.
The new algorithm of Instagram runs a two-for-two relationship. In simple words, Instagram will show you more updates or similar ones your account shares an authentic relationship with.
The relationship can be based on the tagging, commenting, liking posts and such other engagement.
But don't you worry at all! Here are a few tips that can help you reach more viewers even when the Instagram algorithm is sitting tight!
Also Read : 5 Ways To Buy Real Instagram Followers
Make Use of The Instagram Story Stickers:
2019 is the ideal time to rethink about what you feel is engagement on Instagram. Engagement is no more only about liking and commenting on posts. It's about a true connection where people follow your brand hashtags, connect with your Instagram stories, and check out your IGTV videos.
Speaking about Instagram stories, have you noticed how much it has grown in just a few years? Various new features are associated with Instagram story templates. These include hashtags, locations, and stickers.
Of all these, the stickers are the best means that you can use to interact with your viewers. There are a lot of options. A few include the question sticker, poll stickers, love sticker and a lot more.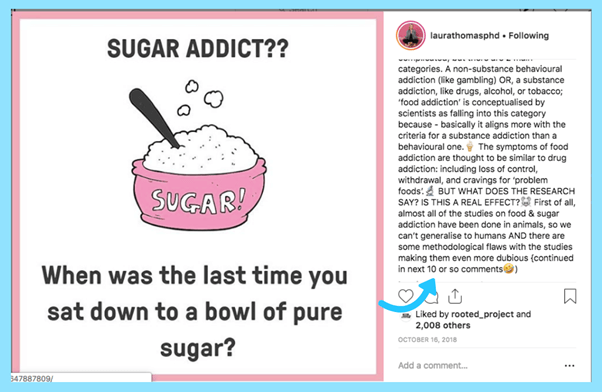 Source: Instagram
Celebrity hairstylist Jen Atkin has made classic use of the poll sticker to find out about her viewer's reaction to her latest collaboration with Calpak.
Also Read : How To Build Your Brand And Authority On Instagram
Try Out Content Curation:
Instagram is all about letting your viewers know what you like. Thus regram is something that all Instagram users make use of. Regramming can be the best means of connecting with new people and thereby increasing the reach of your post.
The moment you regram using a set of new hashtags, more people who share your choice will come to see your post, and that means more engagement and more views!!
Arrange Contests To Get More Views and Engagement:
Asking questions and encouraging your viewers to join in is one of the fun ways to get more views and followers on Instagram.
Additionally, if you offer some form of takeaway it works even better. A similar approach was tried by Buffer and the results were pretty amazing!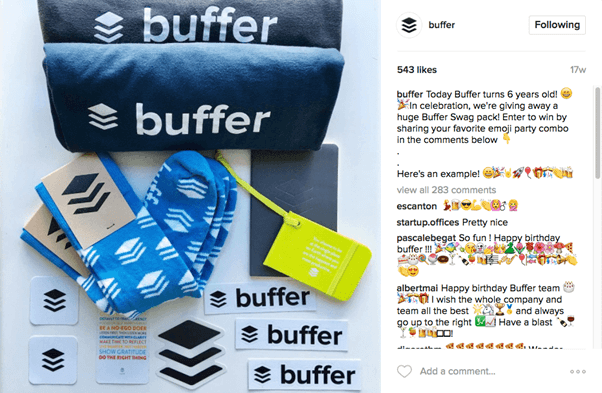 Source: Buffer
Also Read : Buy Instagram followers
Make Use of Longer Captions:
Instagram is different from Twitter in this case. While the latter has a very limited caption length space, Instagram captions can be as long as 2200 characters! Imagine the space you get to share your thoughts!!
As per the new algorithm, the time viewers spent on your post also affects the engagement. Cool right? So what can be better than long caption in that case?!
This trend set in from last year and more and more brands followed the style of writing a yard long caption.
Apart from the tweak in the algorithm, writing long captions can help a business share its goals, product ideas and business mission with its audience. Top it up with some emojis and your post is ready for increased engagement.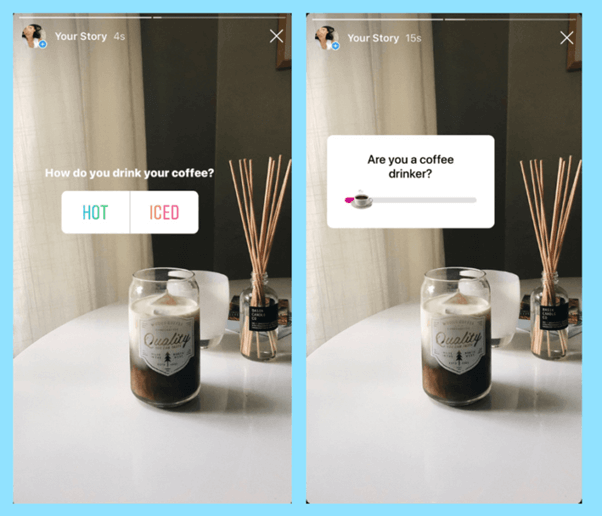 Source: Instagram
Also Read : How to get followers on Instagram
Don't Miss On Interacting With Your Viewers:
Many times brands often leave out or ignore the messages left for them in the inbox or even on the post. Now that is a strict NO-NO!!! If you wish to grow your follower base and generate more views for the content that you are sharing on Instagram, then you must communicate with your audience.
Yes, it may not affect your sales directly, but it will affect your brand image. On interacting with the viewers you become more authentic and reachable to your viewers and that is essential in the current digital space.
Open Up More About Your Business On The Instagram Posts:
Nowadays, the audience wants something more than your product shots, and thankfully Instagram gives you that scope to open up more about your brand on your posts and stories.
For instance, startup founder Jess Ruhfus regularly talks about her business on Instagram stories. She talks about the hiring spree, new product launch, details and features of the various products and the business in general. So join that bandwagon and get more engagement!
Its an era of something interesting, and that is what you have to do to get more followers on Instagram in 2019!
Also Read : 3 Online Courses For Digital Marketing